The NZSIA currently consists of four different divisions; Ski, Snowboard (SBINZ), Telemark and Adaptive (in partnership with DSNZ). Each division has some form of committee, however the Alliance as a whole is directed by the NZSIA Executive Committee.
The Executive Committee is comprised of a number of different positions filled by highly experienced individuals. Some of these positions are nominated and voted upon by the membership, others are employees of the Alliance.
The following diagram illustrates the relationship between the Snowboard Division and the Executive Committee. It also shows the individuals who fill these vital roles.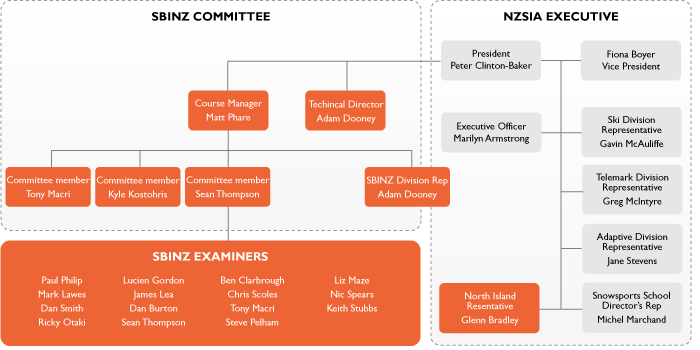 To learn more about the members of the Snowboard Committee or the SBINZ examining team please look through our Examiners list and read about the individuals themselves.
Outside of our active Examiners or Divisional Committee Members there are two very important roles within this organisation…
Executive Officers
Peter Clinton-Baker (President)
Nominated and voted into Presidency in 2008, Peter (or PCB as he's fondly known) was elected for a two-year term which has since been extended to 2012. The President's role is primarily to help facilitate strategic initiatives the NZSIA has identified; to help the organisation move forward in achieving its aim to be a global leader in snow sports professional development; and to represent the NZSIA at national snowsports industry affiliations and internationally at ISIA / Interski meetings.
Pete C-B has been involved in the snowsports industry since 1981. His list of notable positions include Ski School Director at Mt Hutt, a member of the Interski Team at Banff in 1987, fully-qualified Moniteur du Ski in France, and more recently, various managerial positions at Rainbow Ski Area in the Nelson Lakes National Park.
Fiona Boyer (Vice President)
As the most recent addition to the Executive, Fiona was voted into her role in 2010. As VP Fiona works alongside the President to facilitate the strategic development of the NZSIA.
Fiona comes to us with a long list of accomplishments. She was a Level Three Ski Examiner, a member of the Ski Technical Committee, a Children's Trainer (writing the first NZSIA manual on teaching children) and a previous member of the Interski Demo Team in both Austria and Japan. She was also the Technical Director for Coronet Peak and The Remarkables Snowsport Schools, which evolved into being responsible for the overall HR and Training initiatives for NZSki Ltd. Nowadays, Fiona is the Training and Development Manager with Queenstown Resort College and teaches part-time up at Coronet Peak.
Marilyn Armstrong (Executive Officer)
As a paid employee of the NZSIA, Marilyn takes care of course administration (including bookings) and membership matters, as well as the keeping of all the financial records.
Marilyn has been a NZSIA member since 1979 and has been responsible for administration from 1993. Marilyn is the lifeline of the organisation and does a fantastic job of responding to the hundreds of email and telephone enquiries each year.